Paul Southwell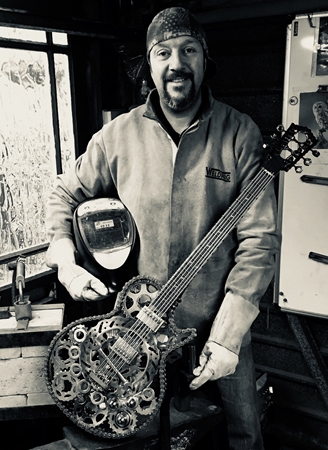 Paul lives in the historic village of Glinton, near Peterborough. Having lived in the Eastern Counties area all his life, he attended Peterborough City College where his love for working with metal first started.
Paul's fascination of metal began at school during metalwork studies where his interest in different forms, materials, shapes and ideas attracted his attention. This interest stayed with him through his college training years before graduating to become a fully qualified engineering fabricator, something he has now been involved with for a number of years.
Paul describes the inspiration and construction of his sculptures - "I enjoy creating pieces in my workshop for family, friends and private commissions. I class myself, as many others do, as a self-taught sculptor. Seeing the creation in my mind before it is made gives me all the drive and enthusiasm I need."
About three years ago Paul began incorporating old tools and scrap metal into his work; the variety of shapes and colours capturing his imagination taking his work from utilitarian to highly decorative and aesthetic.