An Interview with Rajan Seth
10 March 2021
The recent announcement of the impending relxation of lockdown restrictions on April 12th is undoubtedly welcome news. We've really missed being able to welcome people to the galleries, to share with you new works and simply to have a catchup!
Whilst we count down the days, here's an opportunity to get to know another of our newer artists a little better. Rajan's use of textural metallics in the creation of soft abstracts has been a refreshing addition to the Gallery Rouge artist stable.
Your background and transition into art is slightly unconventional isn't it? Where did it all start?
The passion for painting, being in the studio and experimenting with different materials stemmed from school. I loved art at school and it was one of my favourite things to do. We used to have a life class where a model would come in every week and we would do some sketching. I found myself being really relaxed in the studio and we had amazing facilities.
Being from an Asian background you have to keep everyone happy; there's always an expectation of going into a profession which pays well and guarantees a bit of security.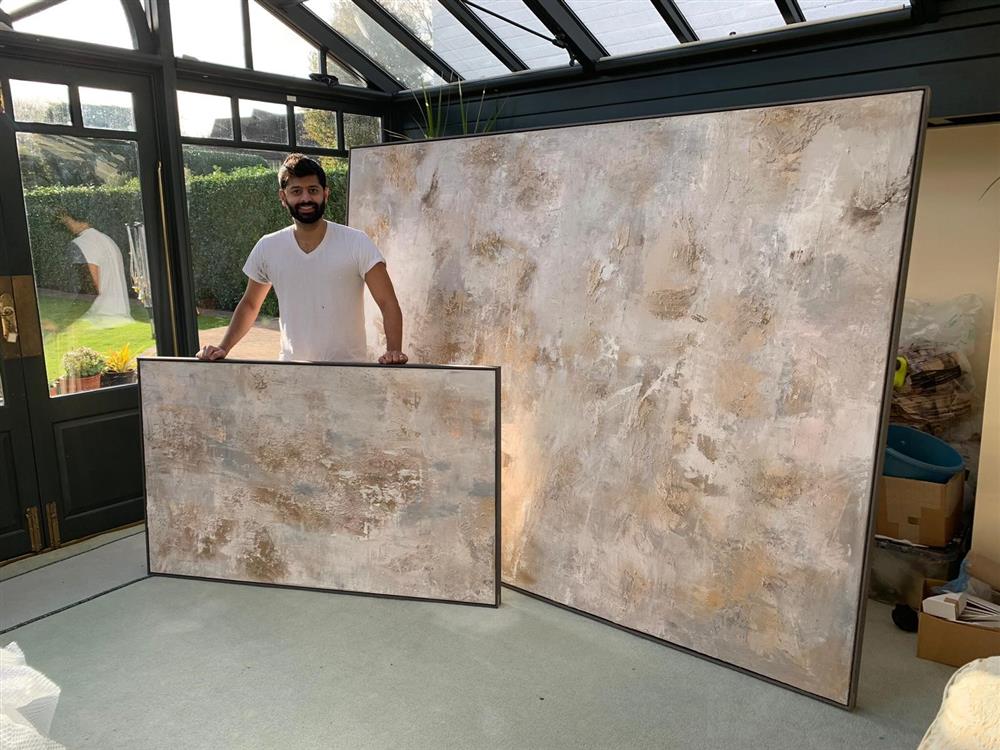 Did your parents therefore influence your career direction? Do you feel you went into a more formal academic programme because of them?
Yes and no – The subjects I studied at school for my A Levels where Art, Spanish and Economics, which is rather an eclectic mix of things that I enjoyed. I think they were very supportive in what I wanted or liked to do. I was pretty grateful for that. They were super helpful in letting me have the best of both worlds; being able to be creative but then having more structure in relation to a profession to follow.
I did an Economics degree at the University of Manchester. I would have liked to have studied an architecture degree but was a little put off by the seven years needed to qualify – back then you also needed a Physics A level to apply. I did enjoy my Economics degree and given all the changes which are taking place in the world right now, I feel a sense of commercial acumen is really useful in being more entrepreneurial.
From Economics to Finance – how did that happen?
The move into finance was very casual. I applied for an internship at a large and respected accountancy practice and was delighted to be selected. I spent 12 weeks working in London during my second year. The bit I enjoyed the most was meeting new people, and it gave me an insight into the industry. Upon graduating I joined their accountancy qualification programme and spent four years after university studying without a break, so seven years in total.
You said seven years as an architect was a hard slog, but you ended up doing essentially the equivalent time but in accountancy…
Yeah, totally right! Working and studying at the same time is incredibly hard. There were a lot of sacrifices. I didn't know it back then, but I think the one thing I have is a good amount of drive and I knew I was going to see it through. I don't regret it though, as they're valuable skills to have.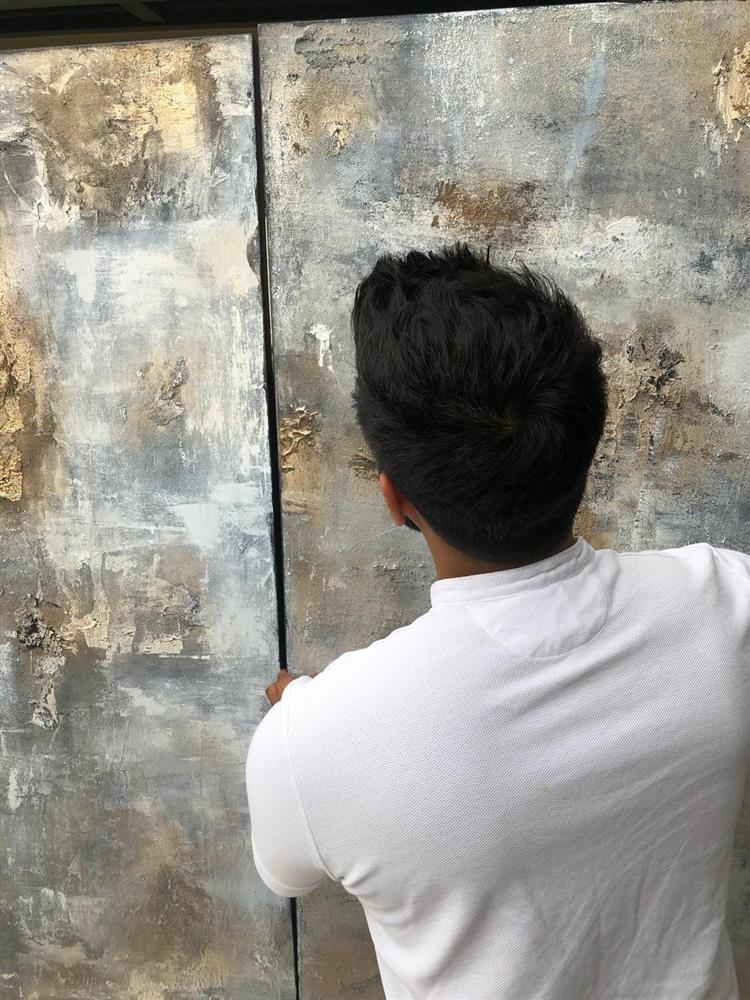 So here you are, everything's now mapped out in front of you… How long was it before you realised 'actually, this career path isn't for me'?
The first couple of years in the City were really cool, the going out and meeting your friends. But after a couple of years the firm unfortunately had a large round of redundancies and I was one of them, which knocked me back a bit. I was just about to finish my accountancy qualification, so had to find another firm to continue and qualify with. In the back of my mind, I didn't really know what I was going to do after that. It's a really prestigious position to be a Chartered Accountant and I'm really proud of it, but I wanted to use it in a creative industry. I was fortunate to secure a position within the fashion group Jack Wills in 2015. It's crazy to think that it was only five odd years ago, and so much has changed since then.
When was the pivot moment?
Around the beginning of 2017 I started to post up my work on Instagram. It was great and quite embarrassing receiving all the positive comments. At that point, I didn't think much would become of it and momentum was building. However, towards the end of the year I felt I really wanted to push things harder. I remember the specific date; it was December 6th and from that day onwards I said I was going to make it work, and I've never looked back. I had just been made redundant (again!) so it felt like something was calling me.
Who was your biggest inspiration within art?
Whilst I was working, I'd always been painting in the background for family and friends. I still have and use my old paintbox and it reminds me of my art teacher. I'd really like to reconnect with her, as I'm sure she'd be pleased to hear what I'm doing now. As I came into the A Level period, those were my toughest years at school due to bullying. I always turned to the art studio as a place I could go and be a bit more relaxed knowing there weren't that many people around and I could be a bit freer. I didn't see the link before, but there definitely is an emotional connection – it was my safe haven and I have a lot of fond memories.
I follow an artist who's one of my favourites called Soozy Barker. I reached out to her and said I'm a massive fan and just love your work. She was so graceful to respond back and gave an insight into what she uses and how she got certain effects. I've taken that learning onboard and applied my own approach, and I'll always be really appreciative of her.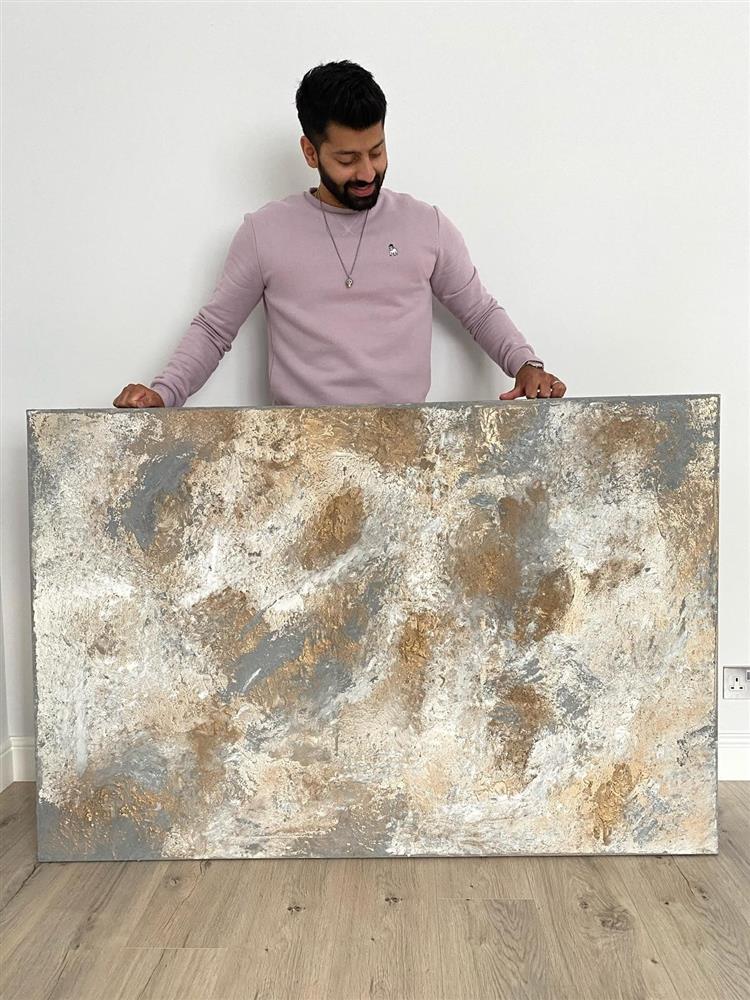 What do you think has been the key to your success to date?
I started off working with very bright colours, but I soon identified a niche style that was more interiors led which suited me better. Working with metallics has always been something I enjoyed. The style has been developing over time, and will continue to develop throughout my career. Using mixed media and experimenting with different materials is also a big thing for me.
Working with different people in other creative industries has also been beneficial. A collaboration with a furniture designer in Portugal really helped. He would photoshop my work into images of his creations, which lead me to realise that navy, grey, golds and silvers worked particularly well and in a weird way funnelled me to go down that route. I think that shaped the direction I was going in.
How do you determine which way a piece will develop?
There are so many different factors which have a direct and indirect impact – Having built up several layers I may put some music on in the studio or even had a nice cup of coffee and feel energised. That will have impact on my strokes, how aggressive I am with the paints, how loose I become in mixing and blending. Sometimes you can become so overly protective of the stage you're at that you don't want to jeopardise it. I would say never be satisfied with what you have; never be afraid to do another layer because you can always go back and amend it. I often have a rough idea what colour scheme is in mind, and at the outset I may have an idea I want strokes to go in a particular direction. I've just started incorporating ink into my work – I just know what I think looks good in my eye, and what would like nice on the wall. It feels sometimes like I'm winging it, but there's simply no better way to often describe it! There's no prescribed template or structure.
You're conducting an online tutorial programme to help other artists – is that inspired by your experience with Soozy?
Absolutely – I wouldn't have been able to grow and get to this stage without advice, and I just want to help others. I'm no expert, where the tutorials were more of an insight into the way I work. I provide guidance on techniques of layering and texture development. I'm doing this through both Instagram and my newly launched YouTube channel, where people can watch and make marks with whatever tools they have. Ultimately they need to practice and experiment to find their own style.