Zombi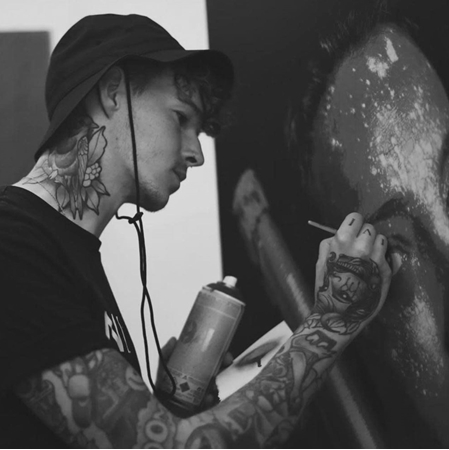 Growing up in South London, Zombi was consumed by the capital's ever-growing urban and street art scene. The artist found himself immersed in the 'golden era' of British street art. Fast-forward two decades and he has become one of the most exciting and sought-after names working in the art industry today.
In 2016 he turned professional swapping a pricing gun for the cutting knife. A self-taught stencil fiend, Zombi has taken his unique blend of colour and explosive energy all the way from the streets of Stockwell to a sell-out show at the 2016 Art Basel exhibition in Miami - something unprecedented at his age.
After being exhibited in Miami, his work attracted considerable media attention which has led to repeat invitations to exhibit at Comic Con, Upfest, and collaborate with international brands including Mini. National attention and regular tours of the UK brought a new audience and new opportunities to an artist whose works had previously been anonymous. Long term followers have seen him develop from a student in the art of stencils, to a respected and experienced commissions artist.
Zombi now works from a studio in East London where he spends months hand cutting intricate designs, layering stencils and delicately spraying layer upon layer to reveal an image.