Veronika Benoni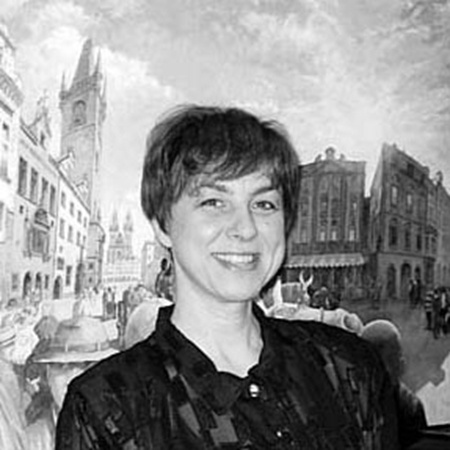 Veronika met Ulian Benoni on one of her summer holidays at home, near the seaside. They had very similar interests and the pair turned their skills towards jewellery art for a number of years as silver-smiths, pieces designed by them became bestsellers in top jewellery stores in Leningrad and Moscow. The world renowned Central House of Artists in Moscow exhibited work by the pair.
As a result of the political instability in what was then the Soviet Union, the two of them moved to Prague in 1994. Veronika was inspired by the architecture of Old Prague with its delightful streets and beautiful architecture, she began painting pictures strongly influenced by this.
In 1998 the Benoni's set up their school of painting and graphics. Three years later they opened their first picture gallery in Mall Strana central Prague. Veronika now works on canvas, and paints mainly in acrylics, cleverly embellishing her work with silver and gold leaf. This unique style of mixed-media painting has become incredibly popular in the United Kingdom since they became available about three years ago.