Shaun Gagg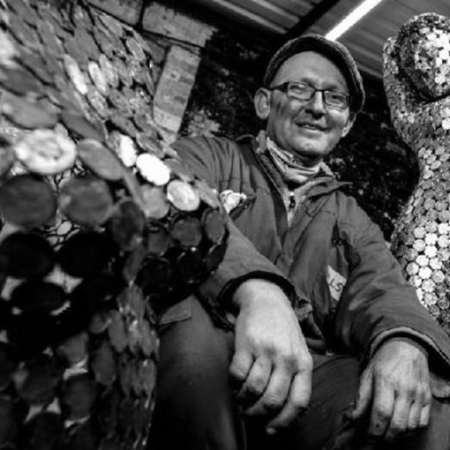 Shaun was born in 1969 and brought up in the mining village of Wombwell near Barnsley in Yorkshire. At school he always enjoyed art and was fascinated by Salvador Dali's work.

His first career as a roofer provided him with the tactile enjoyment of working with slate. Later, this would lead to weekly trips to Wales to identify even larger pieces of slate and sandstone from which to craft sculptures.
Comparisons with the works of Barbara Hepworth led him to discover the work of Henry Moore, and he found aspects of similarity to his own work. However, the most influential sculptor he discovered was Andy Goldsworthy. Andy's balanced land art became an obsession and this led Shaun to the shallows of the nearby reservoirs of the Peak District where he would sit in the water balancing as many as 6 or 7 large rocks with just millimetres of contact points between each one.

Now living in Flamborough, Shaun had steadily been creating ever larger works, which would eventually became his downfall as his left leg gave up due to the weight of the slate he had been carrying around. To alleviate his pain, he constructed an external metal calliper which went from under the heel of his boot up to his knee and was strapped to his leg. This helped in two ways; it not only took the pressure off his ankle, it also made him dig out his welder to make it.
Shaun has never looked back and for the last five years, he has made nothing but welded sculptures and whereas before, the natural shape of the stone dictated the final form of the finished sculpture, with welding Shaun can let his imagination run wild and make practically anything.