Pure Evil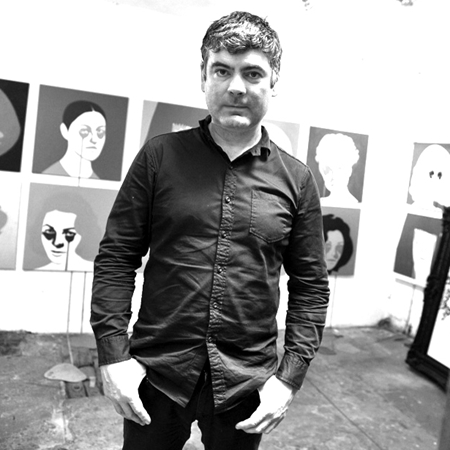 Pure Evil was born in the form of Charles Uzzell Edwards in South Wales in 1968. He grew up in a world of art thanks to his father, Welsh painter John Uzzel Edwards.
Street Art proved to be Pure Evil's most important artistic discovery during his 10 years in the U.S and he graced freeways with "Dump Bush" slogans and tagged gun stores as "Murderers". But there was one image he couldn't fulfil with graffiti or sketches - Pure Evil felt the pull of "Dirty London".
He returned to his homeland on the cusp of the new millennium. It was no coincidence that fang-sporting bunnies began appearing on the streets of 'The Smoke". The label "Pure Evil" went bag and baggage with the symbol, and the artist adopted the new name.
When the U.S denied his application for re-entry, his life changed direction. The artist set up shop in a small shed in the Black Mountains of Wales. After a productive period of isolation and soul searching he moved back to London and prepared for his first exhibition in 2006.
In 2012, Pure Evil was featured on the hit BBC programme The Apprentice as a task for its contestants to sell graffiti to the public. From this, Pure Evil was brought to the attention of the nation in a more mainstream fashion.
Today, Pure Evil enjoys the success of a street artist as global brand. Pure Evil has employed the usual suspects of contemporary street art media, and then some: spray paint, pastels, glow in the dark and phosphorous paint, acrylics, neon, steel, stencils, tempera paint and markers, as well as various methods of screen printing.