Paul Southwell - musical sculpture artist
19 January 2021
After the year we've all experienced, we wanted to start 2021 on a high! It's therefore with great excitement that we welcome our newest artist to the Gallery Rouge stable - Paul Southwell.
For some time I've been seeking to expand our representation of sculptors. When I saw the work of Paul Southwell, I was blown away and instantly said yes. I met Paul mid December when he dropped off a fantastic new collection of work; a few days later we would be plunged into Lockdown 3. It hasn't prevented me though from spending time with Paul on the phone, getting to know him a lot better. Here's a little insight into the man and his journey...
Do you see yourself as an artist?
Whether it's because of my trade in engineering, I've always been someone who builds. I've always considered myself a builder ant, and I get a lot of pleasure and job satisfaction from building things. When I make pieces and people sale 'you could sell those' I'm flattered. Colleagues at work say 'you are an artist, because I couldn't do that' and they're in the same trade as me. I somehow put a little bit of a flair to it, even though it's not needed.
When you said you build things, that doesn't mean there's no creative licence in it…
I was so pleased with one of the first violins I made, it actually came out just the way I had envisioned it. Then I put my mind to 'how am I going to display this'. Its was just the 'yes' moment when this idea popped into my head and I figured out how I wanted to stand it – I'd almost call it an artgasm!
What was the first thing you made, and why?
It was all because of Tom Cruise – he was on a chat show and was asked 'what are you going to get your family for Christmas?'. He replied that he wasn't spending money that year, and instead that he would be making something by hand for everyone, something more personal. To me that was wow, what a great idea - I want to do that this year.
It started with my daughter and I thought I'd make her a wine rack, knowing she also loves owls. It was made out of gears, chains and cogs that I had lying around in my garage. It was meant to be a basic wine rack, but it turned out so much more.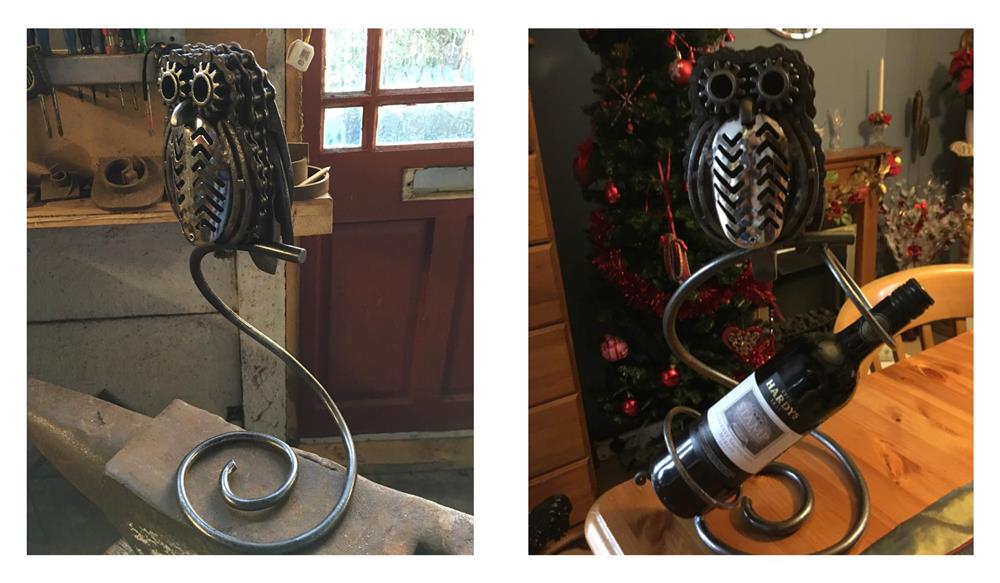 Then I thought I can't do something just for my daughter, next it's my son. I thought maybe a small guitar and asked him what his favourite guitar was. It seemed wrong just to be making it small, so I thought let's go full size and turn it into something special – it holds a bottle of Jack Daniels, so it's kinda like his whisky rack! I made it out of something that wasn't anything at the start. It was just scraps of metal; my original idea kept evolving into a better idea as I built and created it.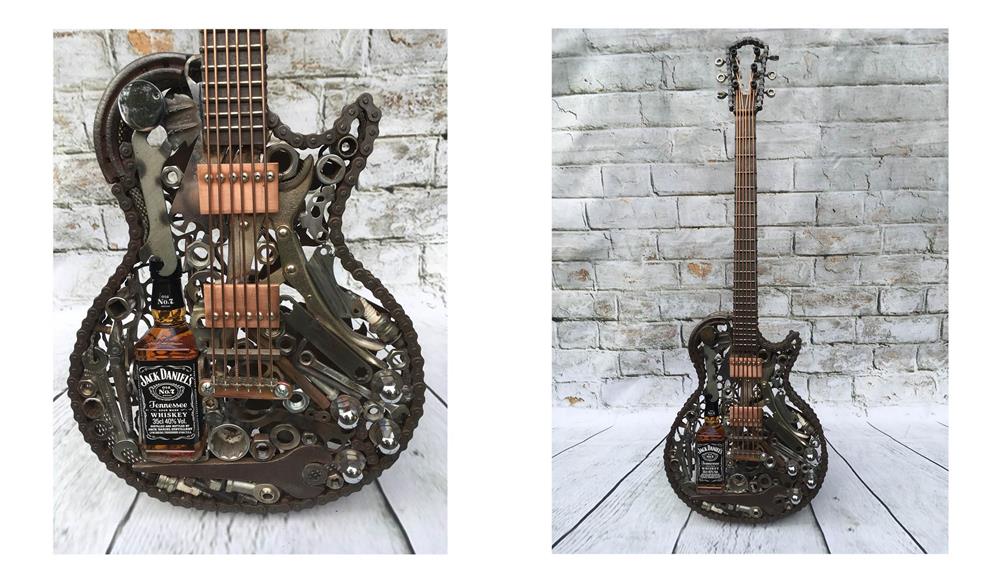 This must have awoken something creatively within you, pushing your own creative skills boundaries…
I got a real buzz out of it, and an equal buzz when I saw the reaction from people who saw them. I created another guitar which sat in a music shop for a year. The owner said whilst people love looking at them, they were more interested in buying the real thing, and suggested I look at gallery representation.
If I see something that's ordinary, I tend to look beyond it and imagine it looking like something else. With my sons' piece I crammed it with bits to make sure that it held the bottle. Now I embrace the space – it's not about filling space, and I treat the guitar as the frame to my picture. The first piece that embodied this was called 'Grandads Shed' – a chap at work came to me and said I've got a bag of old tools from my grandads shed, and would I want them. I didn't want to split them up and wanted all of them to go into one piece, hence the name. 'The Carpenter' is another great example. I love the old tools and wood. It feels a real shame them being discarded as nobody wants to use them anymore. I wanted to give them another life.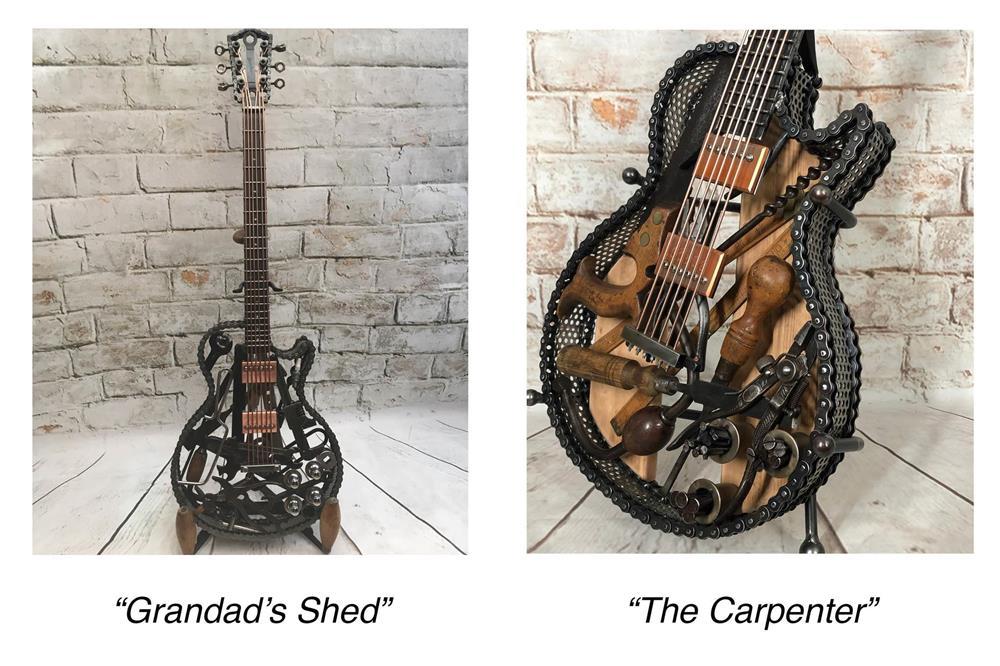 It sounds rather like the BBC programme 'Money for Nothing'. I can't imagine you have a limitless supply of bits and pieces in your garage, so where do you get your raw materials from?
Initially from work. Also visiting boot sales and wondering 'wow, that would look good in something'. Recently I met up with a chap who breaks motorcycles. He salvaged what he can resell and asked if I'd be interested in taking the rest. I'm not a scrap dealer and can't take everything, but I wanted to take the pieces that look interesting to me. He'd wonder how can a brake disc look interesting, but many parts are a thing of beauty. The design that's originally gone into them - there not just a mechanical part with a function, to me they could be something else. I've just completed a double-necked guitar for him – it took a lot of time and I was up for the challenge.
How did you discover your passion for working with metal?
It goes all the way back to school. I love working with my hands and producing something. When we used to have metalwork classes at school, we were given projects of things to make. We were asked to make a garden trowl and everyone was making a simple shape, and I wasn't happy with that. It was coming up to Mothers Day and I made one in the shape of a heart. I went onto the forge and put twists into the steel – I wanted it to look more than just a garden trowel.
My dad has always been somebody if he needed something fixing, the first port of call wouldn't be down to the DIY shop it would be like right, let's get down to the garage and see what we could use. I would imagine a lot comes from that too where fixing things was what we did.
What's your next project?
I work from observing real instruments. I need to get a feel for them. I've got a full size cello right now in my studio which I'm working off. In my mind the sculptures have to be to scale, otherwise they don't look right. I've got an idea of a guitar that's on the wall and has the hands on it in the playing position. It will require a lot of time commitment. I've been a metalworker for 32 years, so I don't think I'll ever retire as I'll move towards doing more art pieces instead. It'll be my new job.
We can't wait to see what he creates next. These unique works are available to view and acquire from our Harpenden gallery. You can see more by clicking here