Lhouette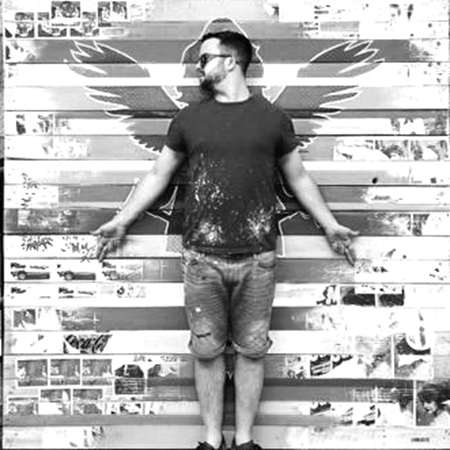 Lhouette was shortlisted for 'Best Up & Coming Artist 2014' by the Fine Art Trade Guild.
Born in Luton Town, Lhouette excelled in his early schooling years within the arts, with his tutors entering his unusual abstract works into various national and county competitions.
After leaving School Lhouette took the decision to enrol in the Royal Navy, 5 years and 21 visited countries later, Lhouette re-approached his art with what he calls 'adequate exposure'. Within the last 7 years Lhouette has formed and founded a high street art studio and exhibiting space for up and coming creative individuals alike, promoting his art alongside his fellow collective in an array of new-fangled exhibitions. Resulting in winning a final position for 'Bedfordshire's Person of the Year Award 2010'' in contributions made towards the arts. Lhouette recently completed a post graduate diploma within Birkbeck London school of arts.

A painter with an urban touch, Lhouette uses a particular stencilling technique in much of his work, filling the outlines with high impact coloured patterns, symbols, images and text. His mixed media work is built up of acrylic and aerosol on rough ply canvas often finished with a clear lacquer resin. 'I'm obsessed with colour and texture it plays an important role in my paintings, acting as a kind of grab line for an audience before hopefully discovering further meaning to a piece'
In 2015, Gallery Rouge had the privilege of hosting a solo exhibition with Lhouette, in which several prominent pieces were displayed, including the Retro 100 Decade Collection, and a to scale model of a cow covered in graffiti!