Kerry Darlington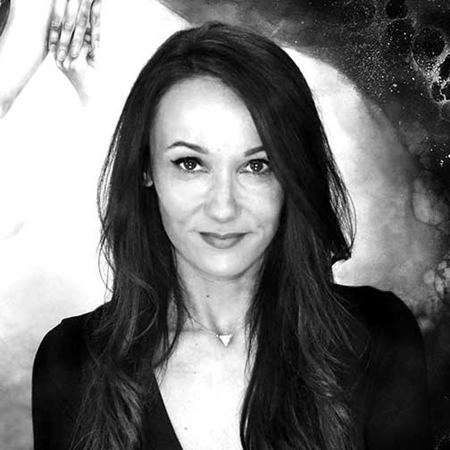 Finalist, Best New Artist 2007
Finalist, Artist Of The Year 2011
Best Selling Published Artist, 2012 & 2014
Born in 1974 on a coastal town of North Wales, Kerry's talent was fuelled by a love of beautiful old picture books (Rackham, Dulac and Beardsley were her favourites), which developed into a degree in illustration in 1996.

Following University, she left to work in Bolivia, before returning to the U.K. to work as a designer and illustrator, specialising in sculptured clay murals for private residences.
Kerry worked for many years with line drawings and watercolour. She now works with a variety of mediums – acrylics, metallic and layers of resin. Her colour is built in layers with resin to create depth and translucency.
Her abstract pieces were initially based upon satellite photographs of Earth which created the 'Volcanic' Collection in 2006. This has since diversified to include contemporary landscapes, figurative and 'fairytale' works, all carrying her unique style.
Kerry released her private collection of figurative works which took her work to another level, with 'Ophelia', 'Undine', and 'The lady of Shalott' amongst them. Many of these sought after pieces are still in demand and have gone on to obtain high values on the secondary market. Kerry now works from her studio at home in Wales, and continues to inspire other artists.
Kerry has become one of the most sought after artists in the UK today, and Gallery Rouge are proud to say that we hosted her first ever solo exhibition in 2009, supporting and representing her art from the very beginning of her career.