Exciting new artist - Chris Rivers
05 May 2018
Come join us in the mischievous world of Chris Rivers
As you can imagine, we get approached a lot by artists seeking representation at Gallery Rouge. As one of the UK's leading independent galleries, that's only natural. What I enjoy most though is discovering talented artists when I least suspect it. And it was just the case, on one wet October morning, that we stumbled upon a shining star who captivated me.
Once in a while you come across an artist whose works simply mesmerise you. As I stood, transfixed by not only the scale of what hung before me but the delicate detail within, up walked a softly spoken man whom I soon learnt was the artist of this sublime piece. The painting in question measured six foot square, and it didn't surprise me it had already been snapped up. I simply had to learn more about him…
The Early Years
Chris is a true creative through and through. From an early age he was presented with dichotomous options to study either art or music. His passion for music was to win his heart over, especially playing the drums. He was to find musical success as a founding member of UK rock band Heavens Basement in 2008. As Chris regales stories of global road trips, it's evident that being in a band whilst considered glamourous, is also gruelling. A relentless touring schedule over a ten-year period ensured that he sought a creative release through other channels, and sketching was to be that outlet.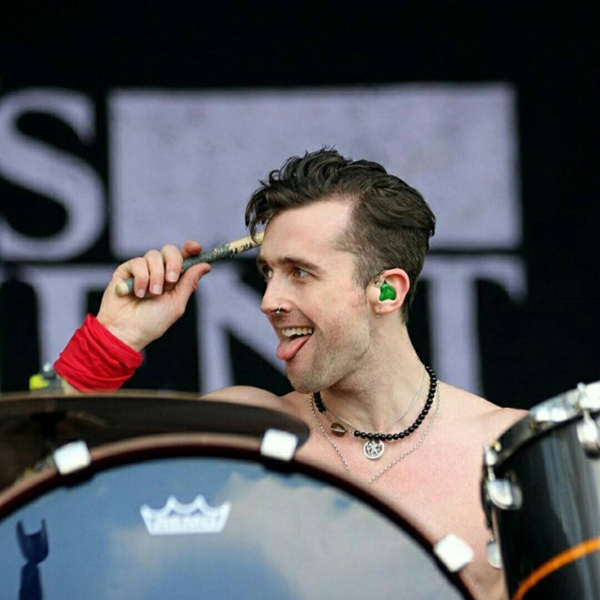 As I listened to him, I couldn't help but draw parallels with other musicians for whom the urge to express themselves alternatively led them to explore art. We've had the privilege of representing the works of Bob Dylan and Ronnie Woods from the Rolling Stones, both of whom have enjoyed considerable success as recognised and respected painters.
A pivotal moment occurred whilst on tour in the USA in late 2013. Rather than sketching on paper, Chris took to creating his marks on used drumheads. To his amazement, fans readily bought these from him as 'merch' (band souvenirs). Night after night Chris would craft new and ever intricate works, each being snapped up by an eager audience. A tap had well and truly been turned open…
The Germination of an Artist
Towards the later part of 2016, Chris's painterly desires where just too powerful to ignore, and with a heavy heart (and a new-found enthusiasm) he decided to leave the band and immerse himself in creating art. With no formal education or training in art (that having been forgone at an early age) Chris dedicated himself to learning through practice. By his own words, he was obsessed.
This dedication to exploration is evident in the works he creates. From figurative to almost ethereal pieces, each painting transports you into a parallel world.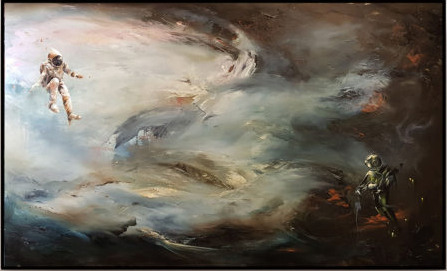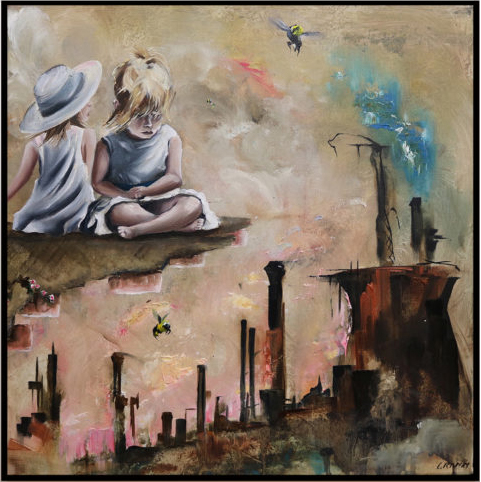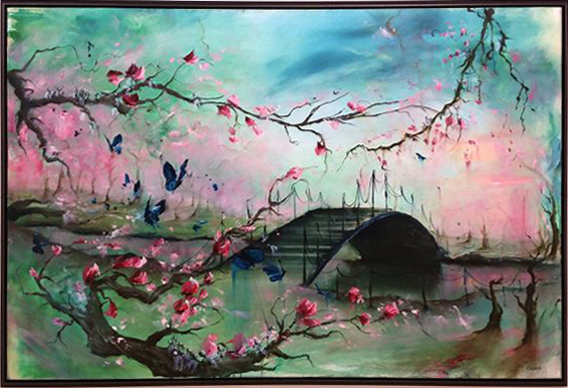 It was little wonder upon speaking further that we were destined to work together. For me, the character of an artist is just as important as the work they create. Incredibly humble and approachable, Chris doesn't carry the pretence normally associated with some established artists. Confident in his conviction, he readily agreed to create a debut collection for Gallery Rouge.
The New Collection
After a patient wait of five months, we received a call two weeks ago advising that the collection was complete! Like a child at Christmas, I immediately informed Chris that I'd drive up to Bolton from St Albans and take custody of the works.
The studio is located in what was previously a Mill. Vast and expansive, the space is a mecca for experimentation. Working on several pieces at once affords Chris the opportunity to stand back off works and careful consider their progression. Using oils as his preferred medium, he will leverage the same colour palate on an entire collection.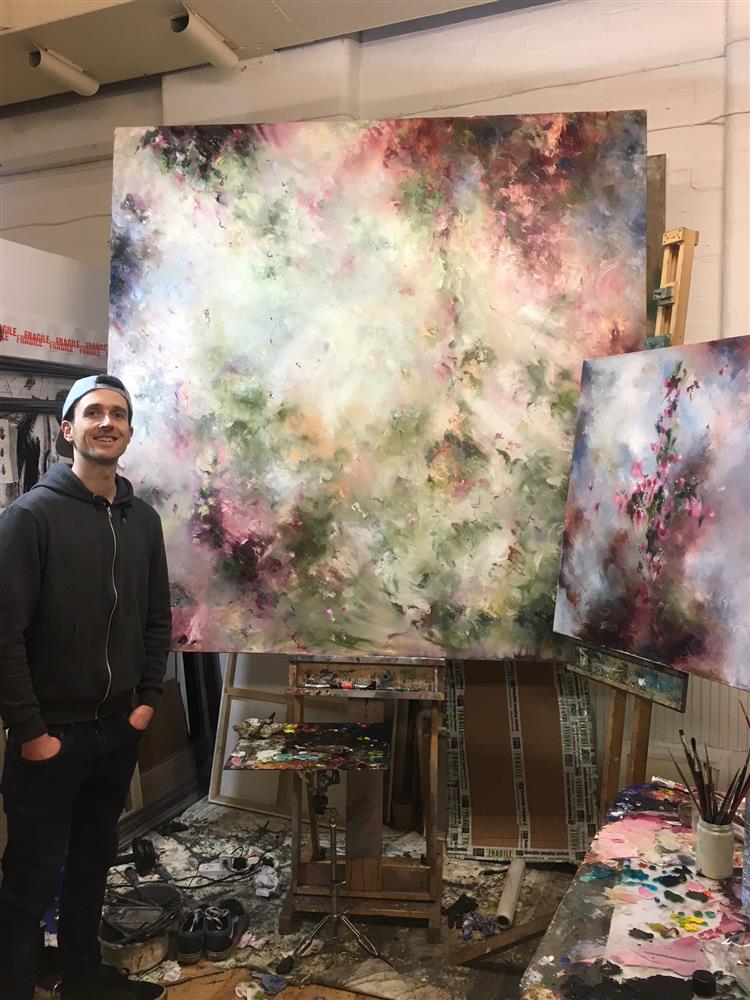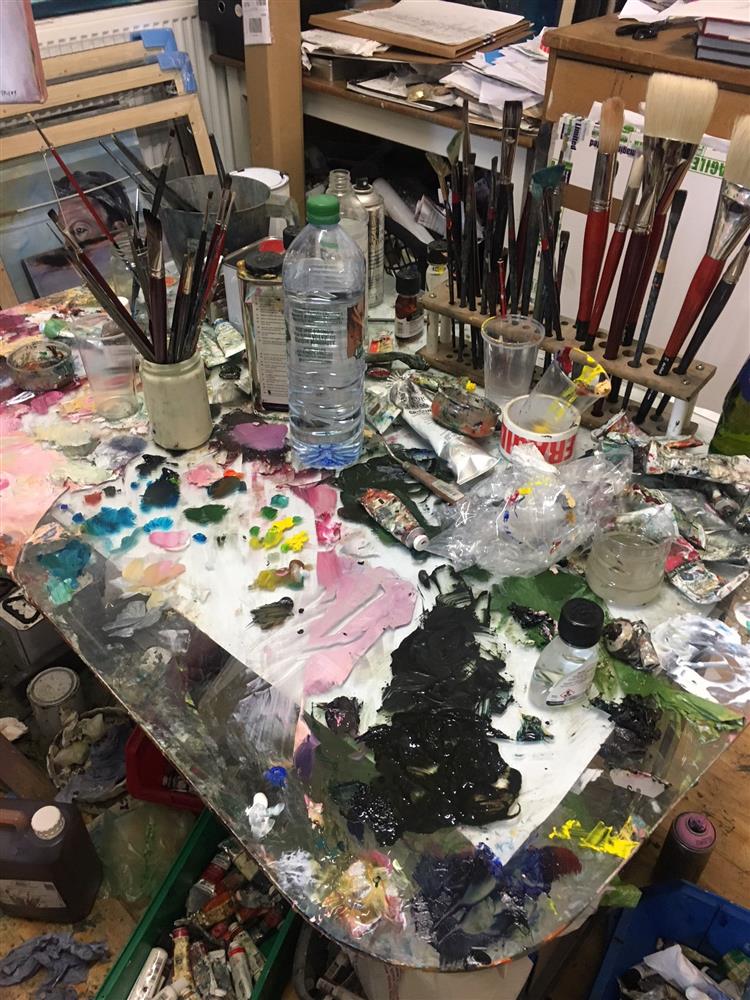 The collection we commissioned is from his latest series 'Savages of Eden' which explores the concept that not everything you see is what it seems. At first glance from a distance, all in the garden appears rosy. Floral cascades indicate an abundance of exuberance – an impressionistic heaven. However, upon closer inspection, characters with a somewhat malevolent undertone have other ideas. Skeleton fairies mischievously tamper with the fabric of Eden.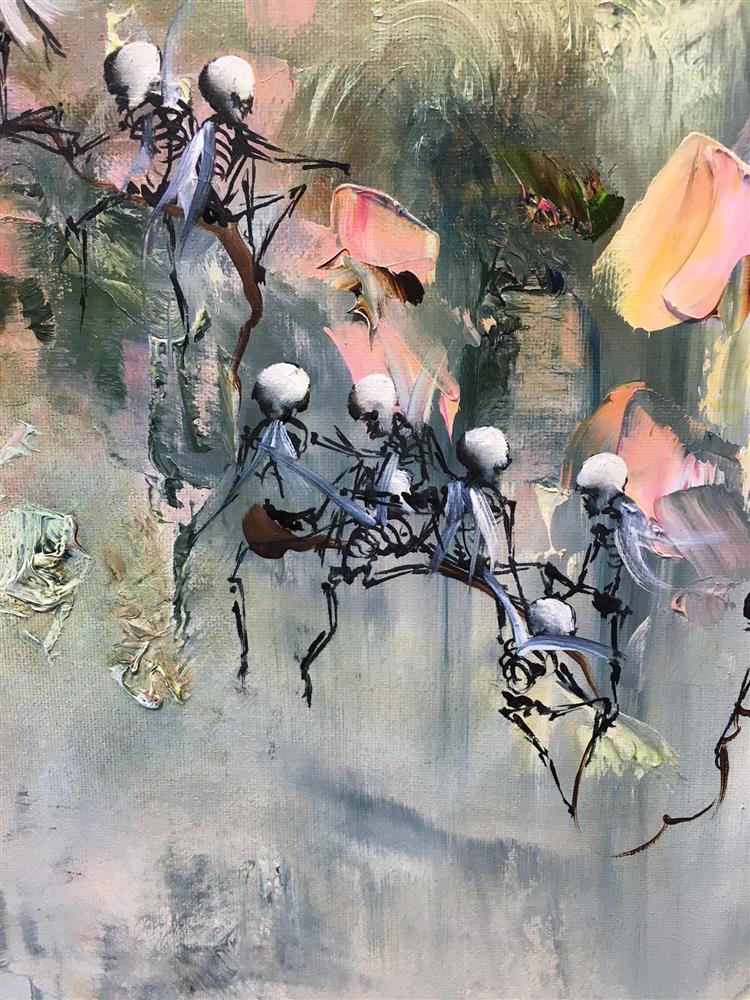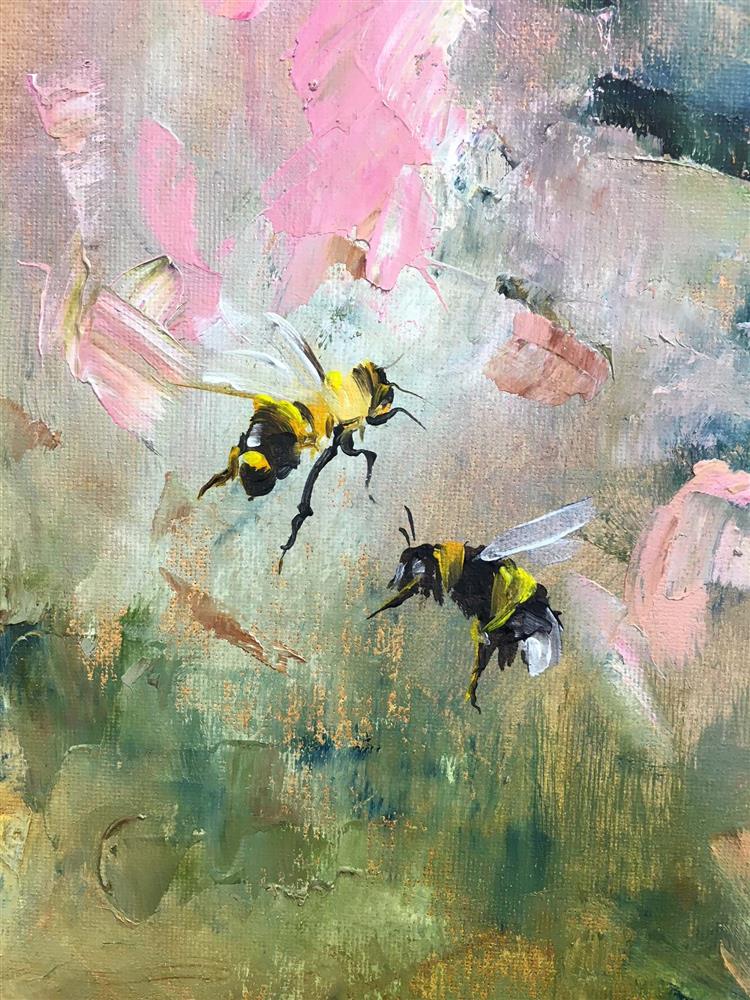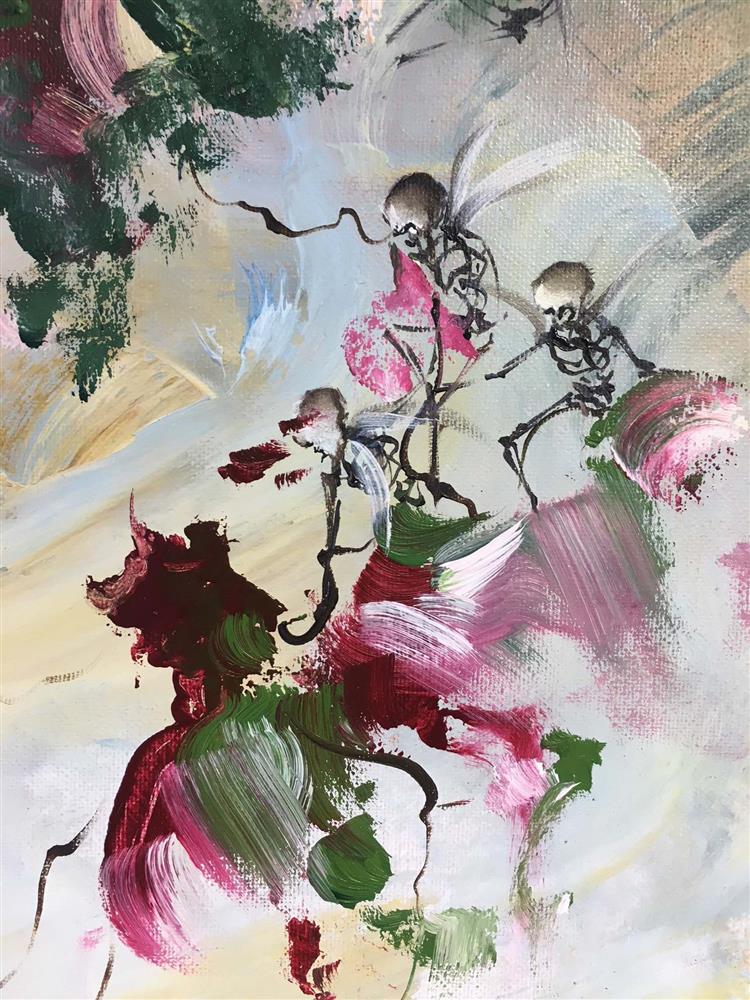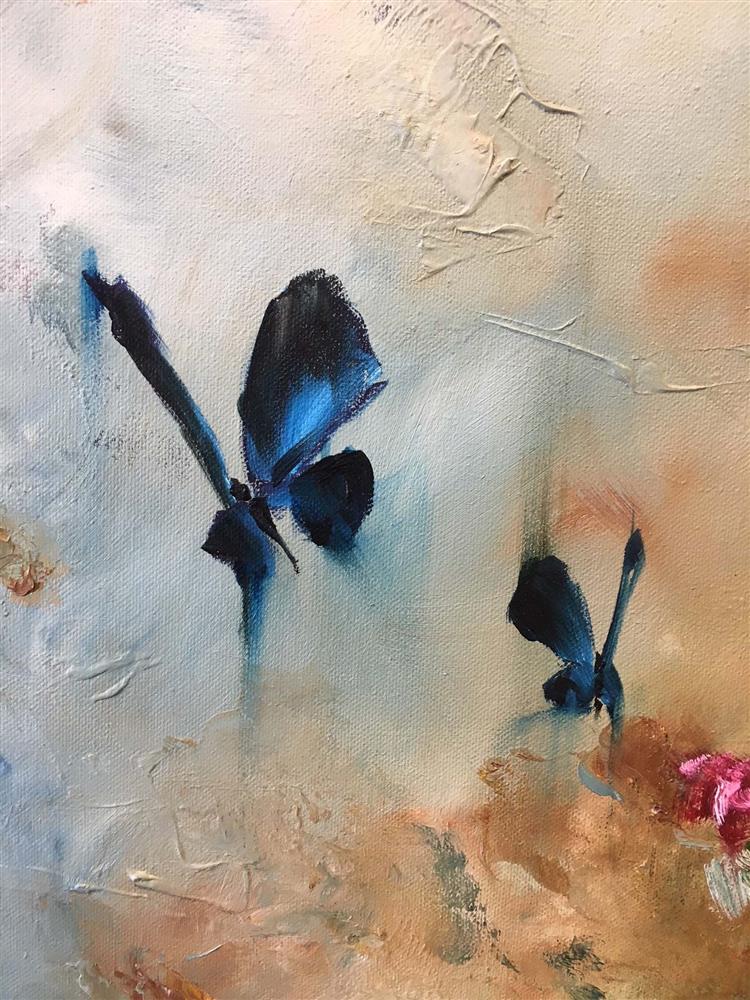 When questioned about his inspiration, Chris cites the bizarre and dark world of Bosch and Goya for their sometimes macabre approaches. His foil to their pessimism are the joyous colours from Monet. Texture is achieved through meticulous application of multiple layers of oils.
The full collection is now available to view in Gallery Rouge St Albans. Come and explore the tension created between idealism and scepticism, and appreciate the wry take on life represented through the eyes of an emerging star in the art world.
Kuldip Chohan - Owner, Gallery Rouge