Interview with Rozanne Marshall-Bell
21 April 2017
Knowing Rozanne as we do, we reckoned she would be the perfect artist to have a bit of fun with! So, we conjured up a few beguiling questions that would, for a brief moment, allow us to enter Rozanne Bell's enchanting world!
Communicating via a blue tinted computer screen, as we too often have to in the fast-paced blur of modern gallery life, I imagined Rozanne sat in her studio surrounded by paint brushes, bouncing puppy at her feet, giggling as she typed her refreshingly honest responses.
She began telling me about her LOVE of Graham Norton (perhaps his show was on in the background) and how she would be beside herself if she could have dinner with him. I should explain that I had asked who she would select if she could have any three people round for dinner! She was equally delighted by the concept of dining with the other two guests; Winston Churchill (she could listen to his quote all night) and Sir David Attenborough (selected because of his interesting life and Rozanne's adoration of animals and nature).

Do we think Rozanne has a type…!
We twisted our attention to her biggest turning point in life which, unsurprisingly, was leaving Zimbabwe to move to England in 2002. The circumstances of the move shaped the need and determination to take her art 'seriously'. Rozanne has an admirable ability to thrive on making the impossible possible! When I asked where she thought she would be now if she hadn't of left, she announced that she thought she would be (and I quote) 'A basket case in Africa'!
Given this wonderful clip that we have of Rozanne, I am not sure that life is so different in the UK! 😝
Sensing Rozanne was in a playful mood, I tentatively asked what was the funniest thing she ever saw?
Rozanne Bell: 'My elderly father came to live with me having suffered from a stroke. A new doctor to the town came over to examine Dad and all hell broke loose. Firstly, he encountered my bad tempered mini dachshund, Monty, who was not very welcoming and greeted the doctor by cocking his leg near his shoes...It gets worse. I took him through to see my father, bear in mind that I was covered from head to toe in paint and not looking like the responsible nurse. My father's collie, who never left his side, wasn't too pleased to see the doctor either! He started nipping at his heels whilst trying to round him up. My dad by this point was in hysterics. To give the poor doctor his due, he proceeded to try and deal with my father. Then out of the blue, I heard f*** off, f*** oooorrrrrffffff. The doctor dropped his stethoscope in alarm and whisked around looking at me... my African grey parrot used to mimic me brilliantly and the poor doctor presumed I was the one verbalising the string of abuse at him. I was hysterical and doubled over, it really was like a Gerald Durrell story. The doctor scuttled out of the house looking shell shocked. He did not find the experience remotely amusing! I thought it was var var hilarious!!'
Giggling as I responded to Rozanne's story, I thought I should ask some more 'serious' questions so we changed direction and discussed Rozanne's favourite artist (other than herself of course) who is, leader of the French Impressionist Movement, Claude Monet. His depiction of the effect of light and shade on colour is often noted as inspirational for many artists so it is unsurprising that his impressive paintings would be a favourite of Rozanne's – who has impeccable taste!
Rozanne is celebrated for her wonderful variety of painting subject matters ranging from florals to cityscapes to wildlife paintings. Despite this variety, her work is instantly recognisable; stunningly textured with a vivid colour palette. Currently, Rozanne's favourite subject to paint is her castles. She loves dressing her Victorian people…and thinks she should have lived in a castle!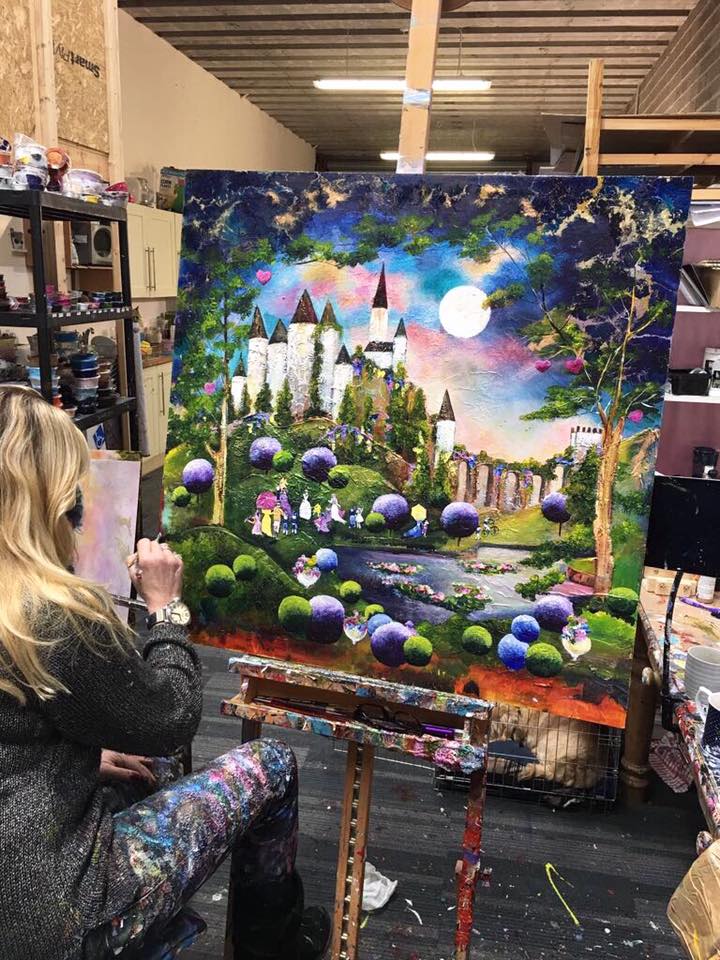 Our conversation concluded with a debate as to what the title of Rozanne's autobiography would be. We decided (eventually) it would be 'Me and My Paintbrush'…given the tone of our conversation it would be guaranteed to be an interesting read!
I thank Rozanne for a thoroughly entertaining evening of hilarious discussion uncovering countless witty facts about her wonderful life. The exhibition on 3rd June is guaranteed to be bursting with delightful paintings, each containing a piece of Rozanne's imagination. Please call or email Francesca on 01582 760332 or harpenden@galleryrouge.co.uk to reserve your place at the exhibition.