Brad Novak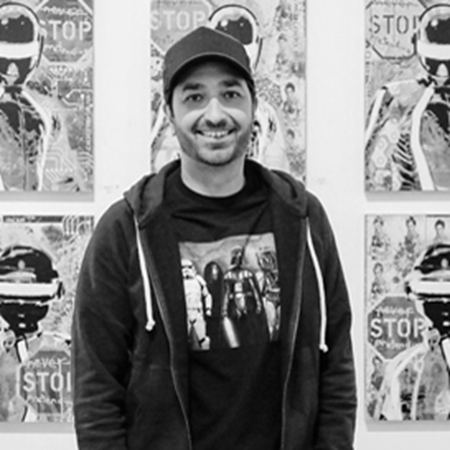 Brad Novak (aka New Blood Pop) hails from Auckland, New Zealand. An urban pop artist with a cutting edge body of work, his style sits sharply at the nexus between fine art and street art.
Novak uses popular culture, specifically the depiction of celebrities from the hyper-inflated world of American stardom. Icons such as Harrison Ford and Marilyn Monroe inhabit his creations. Their iconography underpinned by the use of repetitive images of fellow superstars, such as Carrie Fisher and Christopher Reeve.
These artworks highlight our over-reliance on science and technology which is teaching humanity to see the world through a dreamlike state and cause suffering. Many of Novak's works depict people shedding tears formed from computer circuitry, or looking at the world through a technological 'lens'. The artist calls this 'subconscious escapism' – the loss of our collective minds. Our ever increasing love affair with technology has definite tradeoffs.
Unapologetically Warholian, his work utilises both juxtaposition and synergy – connections are evident within and between works, between the artist and his works, and also with the public. His motto 'Never Stop Dreaming' calls for us to treasure our childhood passions and creativity.
In the artist's own words...
"My art is about keeping our childhood dreams alive as we grow up".
He currently shows in the US, Canada, New Zealand and now the UK. His work is held in several notable art collections including that of the famed US movie director Mr Quentin Tarantino.