Bill Mack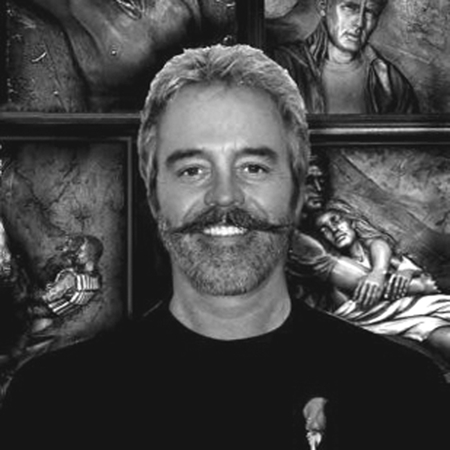 Sculptor Bill Mack works in such a rare and unique art form that there is nowhere to go to learn his art and no one teaches his technique. Combining low and high relief, incised lines, and elements in the full-round in sculpture works that are light enough to be hung on a wall, Bill Mack directly involves the viewer in a 3-dimensional experience, both textural and tactile, that is often startling real. "Mack's art elicits an immediate emotional response," notes one critic.
"A moment in time is stopped, a familiar face revealed, the grace of a body in motion captured."
Born in Minneapolis and at 17 years old, while employed as a draftsman for a company making bronze dedication tablets, a crucial moment occurred which would change his life forever. When a poor quality relief portrait for a memorial tablet created by another artist was submitted to the company for approval, Mack thought he could do a better job. He gave it a try and it was instantly accepted. He immediately quit his job and began a career as a commissioned relief sculptor.
He made a spectacular debut in New York and, in a remarkably short time for a contemporary artist, Mack has achieved worldwide acceptance. He has had exhibitions in galleries from New York City to Beverly Hills and from Tokyo to Frankfurt. His work is in the collections of Presidents Clinton and former Presidents Ford and Reagan. As well as actors and renowned art aficionados, Sylvester Stallone, Elizabeth Taylor, and Tony Curtis.