Ben Jeffery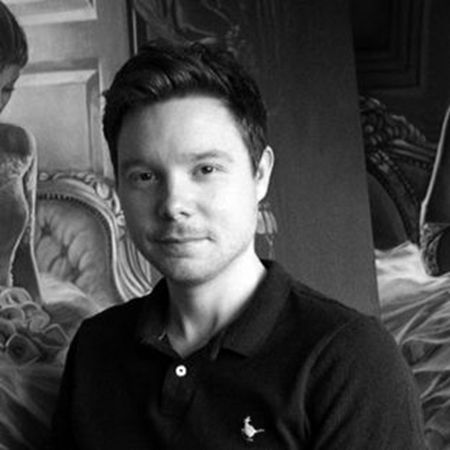 Ben was born in 1986 and grew up in Barnet, North London. He always had a keen interest in art ever since his grandfather introduced him to the work of John Varley, the renowned 18th century water colour artist, as the Varleys are related to the Jeffrey family.

'A lot of the time a painting evolves as I paint it. I always have a basic composition in mind but I let my brush come up with the shapes and I choose colour almost on the spot. Other times I see an image in my head and quickly sketch it out.
I normally work in two stages; I first paint the entire canvas in base colours. After it has dried I paint a second layer, adding more and more detail. After I finish a painting, I leave it a day or so before looking at it again, this helps me pick up on areas that need changing.

My work is fairly diverse ranging from portraits to landscapes in both pencil and oils. I love working with vivid, bright colours to create a unique and modern style. I am a huge Sci-Fi movie fan and I love special effects.'
Ben Jeffery joined us for a solo exhibition and 'Meet The Artist' in 2017 at Gallery Rouge St Albans - let us know if you'd like to be kept updated with our future events with Ben!