An Interview with Artist Harry Bunce
11 May 2017
GET TO KNOW MORE ABOUT HARRY BUNCE - CONTEMPORARY ARTIST
I've always enjoyed Harry's works, ever since we began representing his work at Gallery Rouge in December 2015. In a charming way, they don't seem to fit in any one genre that we tend to categorize our artists into, and I often find them humorous - I think I'm supposed to! After a personal visit from Harry to our St Albans gallery last month, and experiencing first-hand the artist's enthusiastic character and way of talking about his work, I was inspired to want to learn even more about Harry, who keeps a very low, almost private profile on social media.
WHO IS HARRY?
For those that aren't already familiar with his work, Harry currently creates from his studio near his home in rural Somerset, and in 2016 made one great big stamp on the British art scene. With the help of his series of cute(?), sinister(?) anthropomorphic animal friends and the brilliant situations in which we find them, his art has demanded that the contemporary art collector stand up and take notice.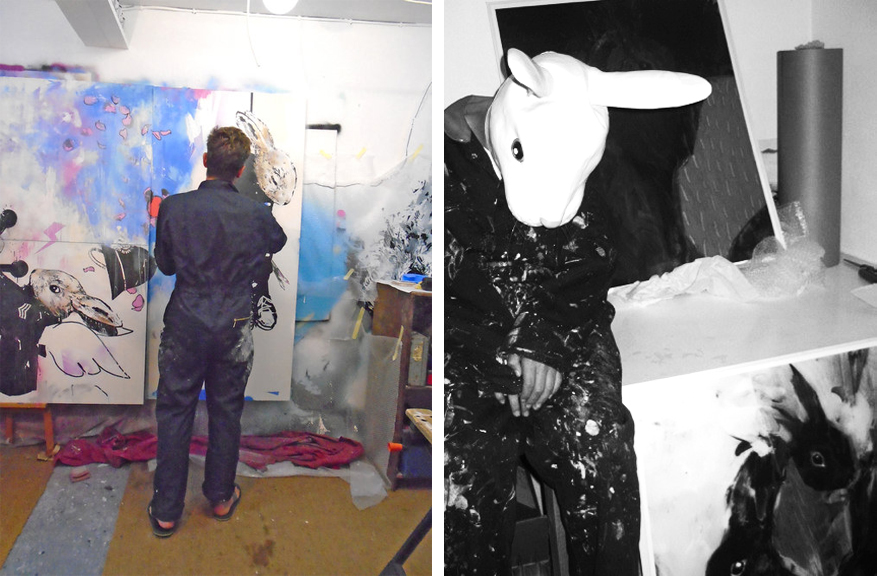 Up until January 2017, his limited-edition pieces had been shown in many galleries and at prestigious UK and international art fairs, with a select few, such as us, also showing his original pieces. He's now condensed his list of gallery representatives down to just a handful, to have a more direct relationship with his gallerists and ultimately his collectors. We're delighted to be one of those galleries.
To start with, here's a few questions that I was itching to ask Harry…
D. How has your experience of working as an independent artist been so far?
HB. I'm a naturally independent character (a bit of a loner) so it suits me very well. It has its stresses but I remind myself that I make a living painting rabbits - people have worse jobs.
D. I know that you studied art, but on your visit to the gallery recently you mentioned other work you had been involved in. So how and why did you become an artist?
HB. I was known as the child who was the 'one who could draw' at both primary and secondary school - but later I lost heart with Fine Art and moved into Fashion. I moved to Bristol, got a degree and set up a label with Becky (who is still with me!) - we ended up running two boutiques in Bristol, but I was always longing to get back to art in some way. I took a leap of faith about seven years ago and it's gone very well - Becky still has the clothing company but I'm no longer involved.
D. Do you work on several pieces at one time when working on originals, or focus on one piece?
HB. One at a time - but if it's a series like The Happy Year I like to have some others in the studio.
D. Are you a nine-to-fiver in the studio?
HB. At the moment yes, because of the volume of work, but it can get a little stale. I like late night sessions the best - where you totally lose yourself in it and are a little afraid to look at the work in the morning!

THE CAST
Restaurant au Renard and Faith

Harry's approach has been described as 'Beatrix Potter meets Tarantino' or as 'bucolic street art'. It's difficult to pin his work down to one genre or as conveying any one message. There are themes of political, environmental and social controversy, violence, sadness, but also more light themes of love and humour. Whilst it feels as though Harry looks to us, society, for inspiration for his wildlife subjects' humanised antics, he encourages his audience to take from it what they will, and believes that explaining a possible message of a piece in full, devalues that message.
I asked Harry if he could tell us a bit about his animal subjects and the situations we find them in…
HB. I think the animals have different characters - like we do, some are good and some are bad, some are clever and some are stupid, just like us. The rabbit character in The Happy Year series is quite like me I think - he tries to do the right thing but is a little messed up.
I like the fact people see different things, that's one of the greatest things about art, Sorry... is a nice piece in that respect, is he sorry, or are we... or what?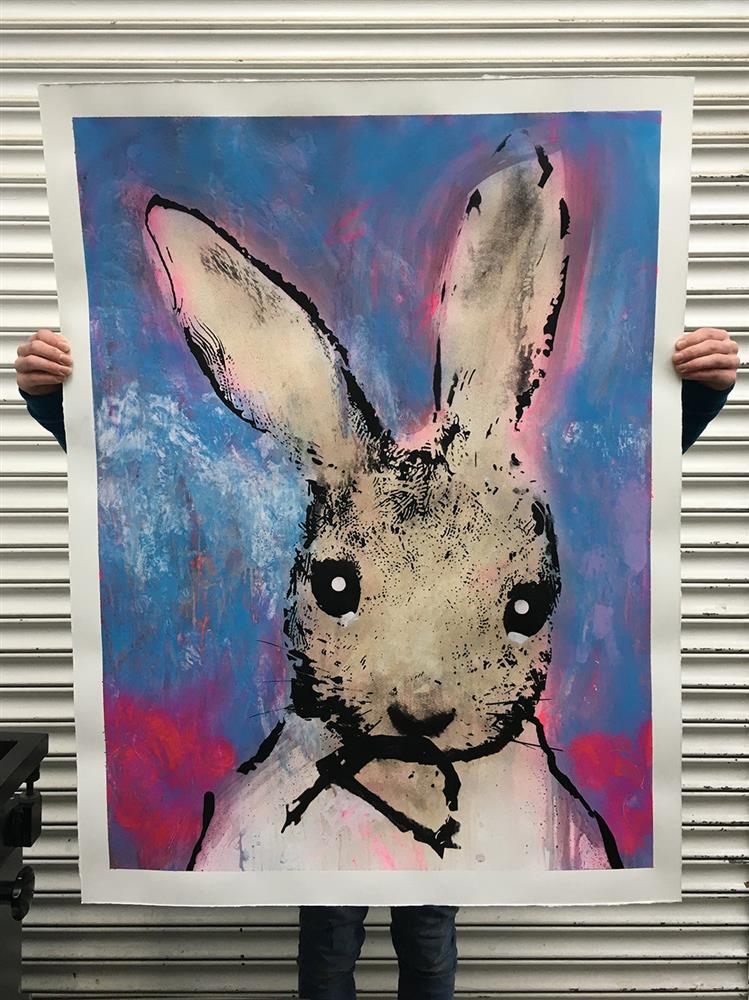 Sorry #16
THE HAPPY YEAR COLLECTION
When visiting the gallery, Harry began by bringing inside some friends, in the form of the first four instalments of his 'Happy Year' collection. The series is formed of twelve limited edition releases, one for each month of this year, which Harry describes as a love letter to his rural childhood. The editions are being released on the first day of their respective month, and are shaping up to be a witty and characteristic collection.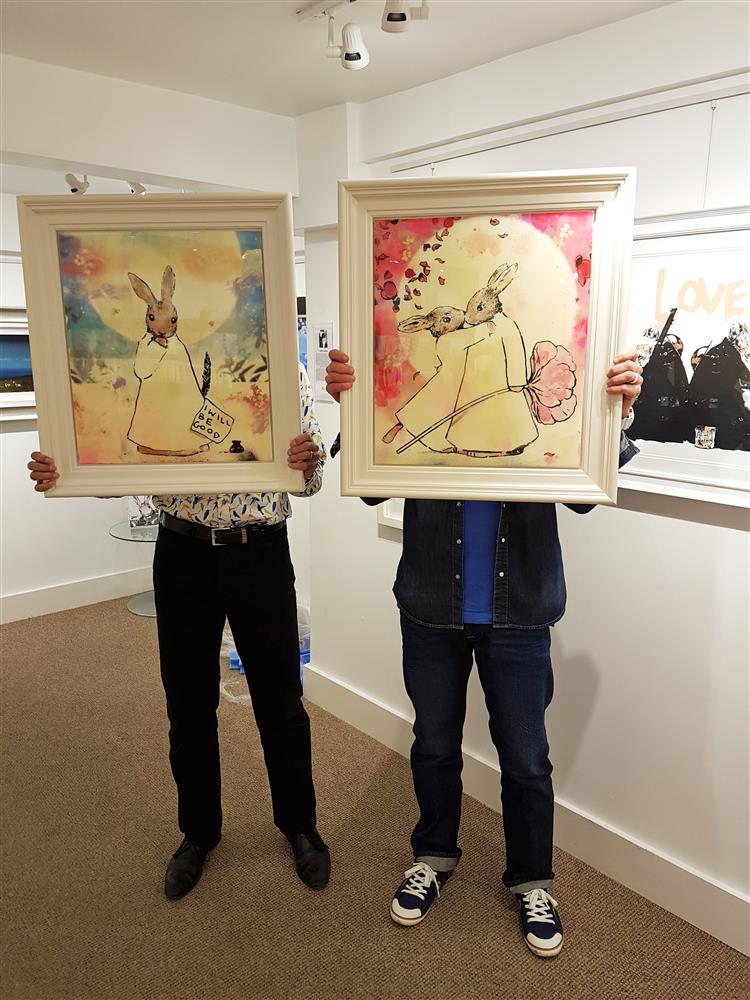 January and February Hand Embellished Limited Editions

Harry says on the project 'I had a general idea mapped out at the end of 2016, one picture to be released each month through 2017 - I didn't quite realise how much time the project would take. People seem to like them - I now have clients waiting for 'their' month!'
The collection is available in both limited edition (smaller) and Hand Embellished Limited Edition variations (see differences below). You can see details of the full collection so far here.


Above - Signed Limited Edition on Paper (Editions of 365)
January, February, March April, and May from The Happy Year Collection
Below - Hand Embellished Limited Edition on Canvas, with Resin (Edition sizes relative to the number of days in each month)

The romantic in me instantly fell in love with 'February', and I love how the Hand Embellished pieces have genuine flowers added underneath the resin top layer, making them all unique. Harry adds to the works charisma by directing me to the fallen cigarette in January, where the bunny is promising to keep to his resolution, which is now firmly in February's hand – brilliant!

WHAT'S NEXT?
We've just had arrive two stunning original pieces, evidently built up in layers in his studio space over time and perfectly executed relative to the urban graffiti genre he is becoming known for.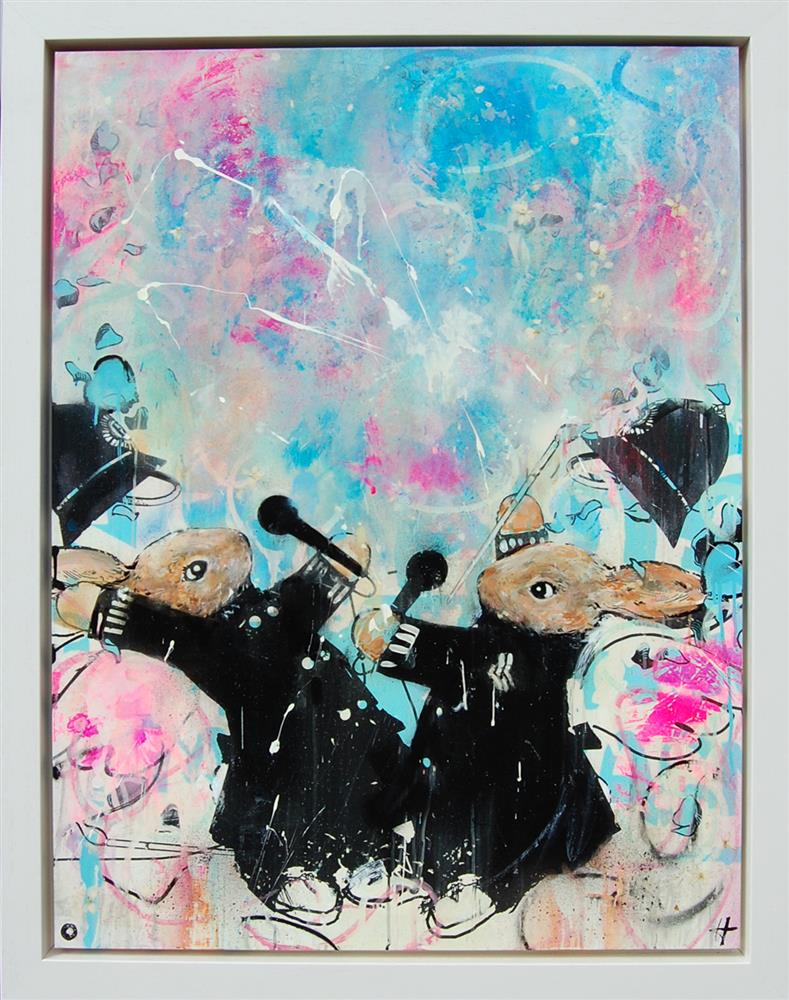 On The Beat - Dusk - Original
'On The Beat – Dusk' is a combination of screen printed ink, stencil, and paint from Harry. A deluxe size original which is hard to come by and a strong addition to an avid collector of his original works. Harry tells me on his visit that the title 'On The Beat' is a play on words of police working 'on the beat' and 'beat boxing' as the bunnies are. He's given them wings as they are the 'angels in blue', but also …'pigs might fly'!
We can't wait for what's still to come from Harry, and are keen to support him as an emerging artist. Keep an eye on our website and in gallery for new works arriving, or register your interest here and we'll keep you up to date. info@galleryrouge.co.uk
Danielle Wiles, Gallery Manager, Gallery Rouge